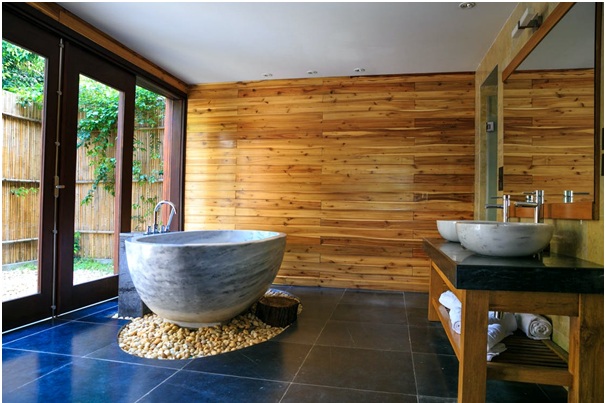 Picking out tiles for your bathroom is quite a task nowadays as an overwhelming variety of designs, shapes, colours, and textures are available in the market. Earlier, tiles were mostly used for functional purposes. But now considerable importance is given to their aesthetic impact as well. This is why tile manufacturers now provide a wide range of unique styles for homeowners. Some trends to help you choose the right tile design for your bathroom.
Knowing the current trends about the colours, shapes, patterns and finishes of tiles for the bathroom will help you make a suitable choice. Here are some of the tile designs that are trending and will help you give a contemporary look to your bathroom.
Graphic tile designs
Be it the floor or the wall, this perfectly accented tile provides a distinct character to the bathroom. The graphic tile patterns with their soft subtle colours or bold contrasting hues will certainly capture the hearts of one and all.
Nowadays, patterned tiles have become very popular. Whether it's in porcelain or ceramic material, graphic patterned tiles can be laid down at all places, especially your bathroom.
Whites and neutral designs
To give their spaces a contemporary look, homeowners largely use neutral colours for bathroom tiles. Bright colours like red, blue and yellow are not really preferred in bathrooms anymore. On the contrary,people are now switching to neutral shades, especially nude neutrals like greys and creams. Grey and beige colours have gained huge popularity with regard to contemporary neutral looks. It has given rise to a new colour altogether—greige. So, you are sure to find it featured in product selections.
Natural marble designs
If you want to make your bathroom appear clean and white, besides looking elegant and classy, opt for marble tiles. A high-end material, marble is quite popular for its stunningly luxurious beauty. Each natural piece comes with its unique style and colour. The different veining and subtle colour shades add to an overall appealing effect. Nowadays, homeowners can avail themselves of several colours and patterned slabs to lay down in their bathrooms. What is trending recently is a soft colour tone and neutral finishes that let the naturally beautiful marble to shine through effectively with little or no impediments. Learn about what you can or can't use when you're cleaning your marble floor in this blog by Clean Image of Orlando.
Textured and metallic finishes
These kinds of tiles enable you to add colour depth, surface interest, and variation in every nook and corner of the bathroom. Depending on the material, finish and colour, textures appear in a subtle or pronounced look. Metallic tiles provide a bathroom with a modern and futuristic look. Though this is quite a new look, it is certain to give your bathroom an edgy yet gorgeous makeover.
Glossy designs
Glossy wall tiles can give an additional effect if introduced on the walls art around the shower units in your bathrooms. It not only brightens up the area as it reflects light but also makes the entire space look grander. These kinds of tiles are extremely easy to clean as well. However, matte-finished bathroom tiles look better with their softer appearance and better textures. They are relatively smudge-free and easier to maintain as compared to their glossy counterparts.
Wooden bathroom tiles
You can easily incorporate a natural look in the bathroom by using specific elements. Realistic wood-grained tiles are extremely common. They include the look of natural wood such as oak, maple and cherry. Since porcelain wood grain tiles offer greater resistance to water, they are perfect for the bathrooms. Also, they are not easily stained.
These wood grain tiles do not compromise with the aesthetics and looks and enhance the organic feel of the bathroom space. In case you want a more compelling look, you can try mixing wooden tiles with natural stone tiles or even materials like concrete.
If you are on the lookout for floor tiles, ensure that they contain some amount of texture to make sure they are not slippery. In other words, the tile should not be too smooth as that can cause slipping. Mosaics and small tiles help the installer to slope the flooring properly. With regards to labour and material costs, ceramics are generally less expensive. You should also consider the size of the tiles. It is essential to seal the grout as well. In a way, the bathroom is a room also. It can be concluded that bathroom tiles are the easiest to clean, hold up the best, last the longest, and enhance the overall value of the space. What are you waiting for? Explore the above trends and pick the one that caters to your taste.