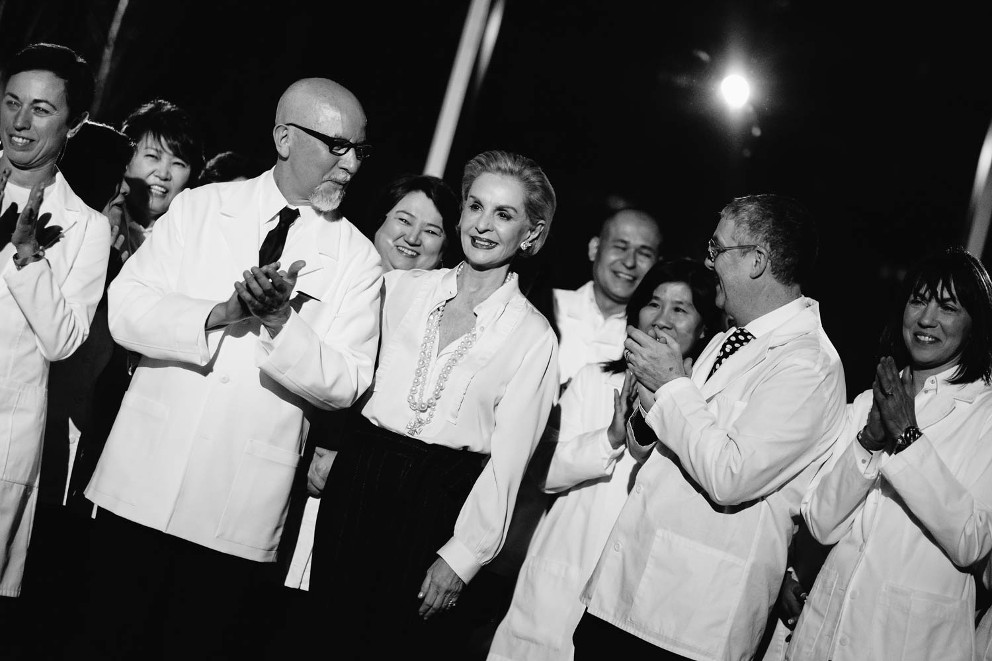 Images via Pinterest.com / Edited by Katherine Peña Rios
Carolina Herrera presented her last collection on February 12th at MoMa, with herself leading as CH creative director. New York Fashion Week had the privilege of bidding farewell to the one that turned the white blouse into a glamour icon; Venezuelan designer opened her last runway with two ensembles that affirm and reaffirm the flawless and sophisticated effect of this essential garment.
Carolina started her career in 1981, when she launched her first collection, motivated by Diana Vreeland. Nonetheless, life was already preparing her since age of 13th, introducing her to fashion industry with a unique opportunity: assisting to a runway of iconic brand Balenciaga.
Her personal style is reflected on her creations, rendering tribute to femininity and elegance. The designer can claim to be recognized by Vogue's formidable editor, Anna Wintour, as epithet of elegance. Carolina Herrera has left a valuable legacy within fashion history: she's proven that her designs significance comes from their timeless elegance and that dressing well doesn't mean following trends.
After Carolina Herrera retirement, her partner and right hand, Wes Gordon, will be taking over brand's creative direction; he joined CH as a consultant almost one year ago. The American designer graduated from prestigious Central St. Martins design school and he also has his own brand. Wes will debut as creative director of Carolina Herrera with Resort 2019 collection. This won't be a definitive goodbye though; Carolina Herrera will serve as international brand ambassador for CH.
We're looking forward to see CH's new path.
Carolina Herrera presentó su última colección el 12 de febrero en el MoMa, con ella al frente de CH como directora creativa. La semana de la moda en Nueva York tuvo el privilegio de despedir a quien convirtió la blusa blanca en un ícono del glamour; la diseñadora venezolana abrió su último desfile con dos conjuntos que afirman y reafirman el efecto impecable y refinado que aporta esta prenda esencial.
Carolina comenzó su carrera en 1981, cuando presentó su primera colección, motivada por Diana Vreeland. Sin embargo, el destino ya la preparaba desde la edad de 13 años, introduciéndola a la industria de la moda con una oportunidad única: asistir a un desfile de la icónica marca, Balenciaga.
Su estilo personal se ve reflejado en sus creaciones, rindiéndole honor a la feminidad y a la elegancia. La diseñadora puede presumir ser reconocida por la formidable editora de Vogue, Anna Wintour, como epíteto de elegancia. Carolina Herrera ha dejado un legado valioso dentro de la historia de la moda: ha demostrado que la trascendencia de sus diseños reside en su elegancia atemporal y que verse bien no significa seguir las tendencias.
Las riendas de la marca pasan a su compañero y mano derecha, Wes Gordon, quien se uniría a CH como consultor hace casi un año. El diseñador estadounidense se graduó de la prestigiosa escuela de diseño, Central St. Martins y también cuenta con su propia marca. Wes debutará como director creativo de CH con la colección Resort 2019. Sin embargo, no se trata de un adiós definitivo, Carolina Herrera fungirá el puesto de embajadora internacional de la marca.
Esperamos con ansías ver el nuevo camino que tomará la marca.