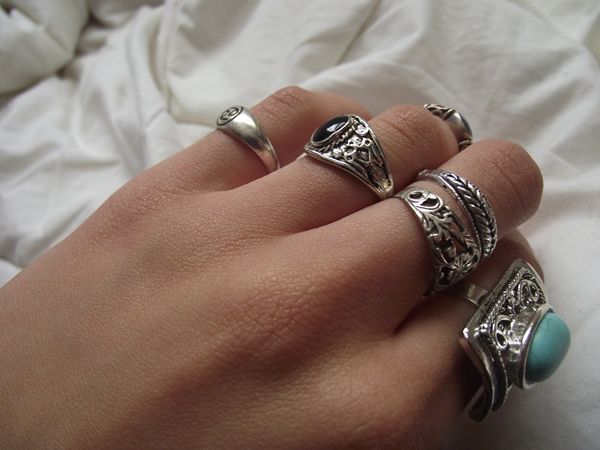 Sterling silver jewellery pieces are classic and timeless. It is very fashionable yet extremely versatile. You can wear it every day or on any special occasions. Whether you want to adorn your little black dress with giant, flashy pieces or layer thin, simple accessories, silver could be your jewellery of choice to complete your entire look. Sterling Silver Rings are a staple in the wardrobe of most fashion-conscious people. It may come in chunky, elaborately adorned bands or delicate, thin rings. If you want to stand out further using your sterling silver rings, here are several fun ways to wear these finger adornments in style.
Have Fun With Colour Blocking
Your statement sterling silver rings will look exceptionally well when used to accessorise your block colour outfit. You can opt to pull up an outfit in grey, black, and white shades which makes the silver lustre or your rings pop out. You only need to follow the colour blocking rules then choose bulky ring pieces to complete the overall look. Aside from these classic colours, you can also have your silver rings with warm colours like purple or burgundy or match it with royal blue or dark navy hues. 
Stack 'Em Up
Sterling Silver Rings are great for stacking. You may either buy several pieces sold as part of a pre-stacked set or work with whatever pieces that you have on hand. It will allow you to express your funky and versatile side. You only need to make sure to match rings with flat edges with other rings that have similar ilk. However, keep in mind to avoid overloading too many statement rings in one finger. You only need to pick one ring to serve as the "star" while the others could serve as the supporting pieces on your fingers.  
Mix And Match With Other Materials
Because of its versatility, you can match your sterling silver rings with other rings made using different materials. For example, you may alternate gold and silver bands in one ring. It used to be a fashion faux pas, but edgier fashionistas are now willing to have fun and express their individuality by matching these metal jewellery. You can also wear rings made from glass or crystals for a contrasting look. You may also want to match your silver ring with leather accessories like cuffs, bags, and belts. It could give your dull wardrobe an interesting boho vibe.  
Match It With Other Silver Jewellery
You can make silver your overall theme for the day by using different types of silver accessories. Sterling Silver Rings look great on its own, but it will look even better if you wear it with silver earrings, necklace, or bracelets. But always keep in mind to avoid overcrowding your look with too many statement pieces. If you are wearing a chunky ring, make sure that your necklace or bracelet is simpler and vice versa. 
Playing with your sterling silver rings can be fun and exciting. It can also become an art form if you know your way to follow the fashion rules. Once you memorise those rules, you can start breaking them to express your style. Experimenting with your silver rings can give you the liberty to wear anything you want without hurting your look. 
Author Bio: Kathleen Zara works as a freelancer and entrepreneur working from a start-up learning along the way about marketing, social and networking, creating web sites, and web content.