If you're already daydreaming about which trendy outfits you'll be wearing this summer, you probably have an idea of which accessories you want to rock along with them. Since cute jewelry trends like beaded earrings and layered necklaces are sure to stick around for the summer, you can definitely make use of what you already have in your jewelry box. When it comes to handbag trends, however, it's possible your collection might need a quick summer refresh. Here are the best purses to include in your summer wardrobe this year.
A New Beach Bag: Is your old beach bag looking a little weathered? Maybe it's time to find a fresh new carrier for all your vacation essentials. Consider a fun woven beach bag with lots of room for sunscreen, beach towels, a great book and whatever else you need to relax in the sunshine. Carry your woven beach bag to the beach, the pool or even use it as a reusable grocery tote! Wrap a satin scarf around one of the handles to add more of your own personal style.
Beaded Clutch: The summer months are full of outdoor dinners, fun parties, formal weddings, concerts and more. You'll need a cute evening bag to match your nicer summer outfits and a trendy beaded clutch is the perfect choice. Whether you prefer a style with sleek, solid color beads or a funky option with bright colors and fun designs, a cute beaded clutch is sure to elevate your outfit and keep the compliments coming all night long.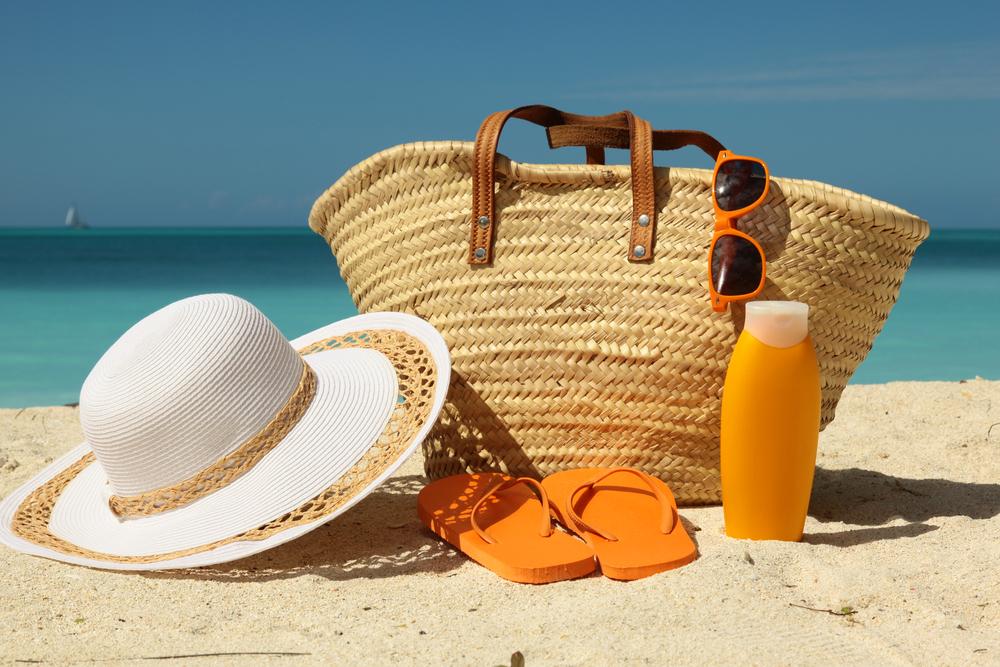 Source: Matthew Bechelli/ Shutterstock.com
Classic White Bag: Among your checklist of cute purses for summer, make sure you include an everyday classic in the form of a white handbag. This should be unique to your personal style and might even be a white version of your go-to bag for other seasons! Start by locking down your favorite handbag style and search for it in white materials like leather or vegan leather, canvas, rattan or other fun textures. Carry it while traveling, out to lunch with friends or anywhere as a summer staple.
Bag with Bamboo Handles: Embrace the natural elements of summer style and create a set of summer outfits using a bamboo handbag. Handbags with bamboo handles and accents are commonly made with rattan or other woven materials to add to the overall beachy, exotic vibe. However, bamboo handles are also common on handbags made of soft leather that help create a nicer and more luxurious look.
Since bamboo handles on handbags are usually an homage to designers and celebrities of past decades, it's easy to get inspired by retro trends and vintage pieces with these handbags. Lean into it and go for vintage-inspired summer looks with your bamboo bag!
Chain Strap Crossbody: In addition to your summer jewelry, your bag should shimmer and shine as it moves. If you're looking for a subtle way to add a bit of shine, you need a midsize crossbody bag with a chain link strap. This handbag creates a classic look and offers ample storage space while adding a little bit of sparkle to your shoulder. There's no wrong way to wear it!
A leather crossbody bag with a chain link strap pairs well with denim shorts and a cute pair of sneakers. Be sure to match your jewelry to the color of the chain for a cohesive summer look.
Source: Look Studio/ Shutterstock.com
Stylish Backpack: It seems as though the list of carry on essentials lengthens during the summer, which makes sense considering bulky items like sunscreen, sunglasses and more. Instead of throwing everything in your car or leaving the house without everything you need, get a cute backpack to tote all of your summer must-haves, impulse buys and maybe even a few snacks.
If you spent most of the fall and winter months last year in cozy athleisure outfits, you can rest easy knowing that it doesn't have to change much as the weather gets warmer. Though summer athleisure looks tend to include less layers and shorts instead of sweats, you can still rock an accompanying backpack just as you normally would. To add a bit of summer flair, go for a stylish white leather backpack or a sporty nylon style in your favorite summer color.
However you choose to style your summer handbags, remember to invest in styles you love. Your handbags can be whatever you like – whether it's a cohesive piece in a monochromatic outfit, the centerpiece of your entire look or something in between. Allow your summer handbag collection to serve as your creative outfit inspiration and your most practical accessory!
Also Read: 7 Evergreen Fashion Trend Of Sharara Suits For A Ravishing Look