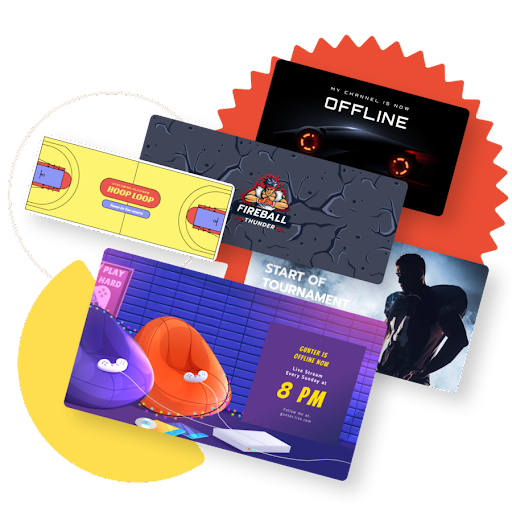 Livestreaming is commonplace nowadays. You can easily find some game players, teachers, or other people holding their streams on Twitch. And it's a really helpful platform for real-time communication between the streamer and his audience. But what if your viewers know only your Twitch channel and nothing more? Here's where the profile banners come in handy. Here, you will learn how to use a free Twitch banner maker and why these headers are indispensable.
What is a Twitch profile banner?
A profile banner, whether it is a Twitch live streaming platform or any other similar source, is an image you place on the main page of your channel to present yourself. They help present the speakers and the concepts because visual information is a great way to build associations. If the associations you create by your header are strong enough people will memorize you. It will not always lead to raising attendance of your channel but help your brand or name recognition.
How to use it with profit?
You can use the Twitch profile banner for various purposes. Its format is not wide enough to place there everything you may need to describe yourself in the text but it's exceptionally convenient for placing visual objects and most important brief information about your activity.
To give an example, you can use the banner for:
creating associations and enhancing brand recognition – we mentioned this point already, and it is the most obvious purpose of using the banners;

placing information about the schedule or future events – the info about the date and time does not require much place, so you can combine both visual and text elements and harmonize them;

expressing the concept – what do you speak about and what's your vision concerning these topics (it's again more about visual elements which communicate this message);

describing yourself – who are you, what are you doing besides the activity on Twitch, what are the team members working with you, etc.;

presenting the other platforms people can follow you on – the same as with the time and date, the links do not require much space to place them, but it will give your audience a more complex vision of who are you;

little promotion of the future releases – some kind of mini-advertising, where people can see the main information about what you are going to produce.
The other ways are also possible. In fact, everything depends only on your fantasy and inventiveness because the space on profile banners is not so large to use for everything at a time. The crucial point here is to choose some single thing to place here – overloaded spaces only create an impression of a mess and do not give any clear information (even if it is structured by columns or something).
What is VistaCreate online editor?
For creating such a helpful banner, you should watch it to be stylish. People like beautiful things, so to form a better opinion about your channel, you should keep an eye on the modern trends in your and related spheres. For this, you can monitor the situation by looking through the profiles of your competitors and partners or using independent sources. 
VistaCreate is something better than just an independent source. It is a visual editor which provides ample room for inspiration and relevant information. The main peculiarity of this online tool is that it provides you with large template libraries for most social media that are widespread currently. This is where to watch the trends and find inspiration.
Except for this feature, VistaCreate has many other benefits to use. One of them is free features for working on your pictures and downloading them. Not only templates are multiple! The elements to create the banners and modify the models are also innumerable. From color palettes to animations – you can take advantage of almost anything you can find in the tool. To see it more visibly, follow the guideline below.
How to create a Twitch banner in the VistaCreate tool?
The VistaCreate tool is simple to use by any user, so you won't have any problem with handling this editor. The first thing to mention is that it works online, so you don't have to install anything on your desktop or a browser application. Just go to the website and start your work.
When you are on the home page of VistaCreate, you need to:
Find the Templates page.

Find the Banners and Headers drop-down list.

Choose the option for the Twitch profile banner.

Select a template and start working.
If you're using the tool for the first time, the system will require you to log in by one of the options. Thus, you can register and attach the profile to your email or log in with the profile on Google, Facebook, or Apple. There is also an option of logging in through VistaPrint.
When starting working on the image, you don't have to set the size format. The system already has everything to release you from this matter. Whether you need a banner for Twitch or an Instagram post, you only have to choose the appropriate category before editing. Resize feature is premium, so, in case of a mistake, you will have to repeat all the modifications from the beginning but in the other format.
Then, you have seven folders with categories of elements to use. Animations, photos, videos, music, objects, styles, and other options are available. To add custom things, you need a folder in the lower left corner named "My Files". There, you can upload the necessary elements, which the system will save for your future work.
Twitch banners are a perfect way to present yourself. It touches upon describing, visualizing, and organizing the activity according to your concept. To make this process easier and more pleasant for users, VistaCreate offers an understandable editor with a multitude of templates and a variety of other capacities. Try it yourself, and no words will be needed!