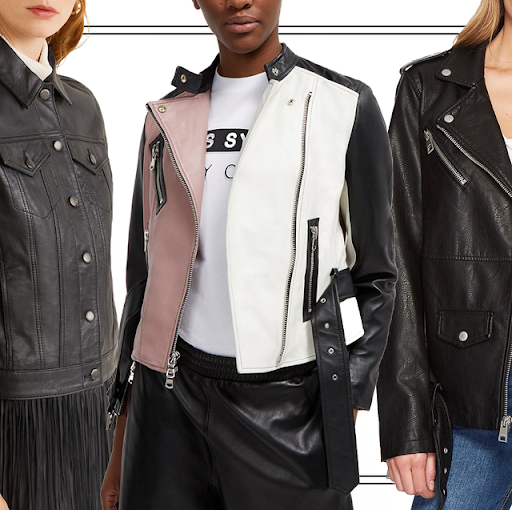 Winter fashion comes around with the blessing of sexy leather outfits. No matter how cold it is, a winter day or even a night can be successfully aced in terms of fashion if something leathery is worn and carried the right way.
While it may cost a lot, buying leather articles is a sensible investment in itself. It will be money well spent, and it won't fade away or be worn out easily.
To make it easier for you, we have grouped up many fashionable and chic outfits that you can flaunt this very winter while using nothing but a leather jacket! This list easily pays homage to the aesthetics set by the fashion industry within 2021 while also bringing about new trends. 
Giving leather jackets the real spotlight, a list of outfits has been created to easily help you decide what to wear and where to wear it. All these outfits easily tell you which leather jacket goes with what and which color brings it all together. 
Before we get sidetracked, let's dive into the list of fashion outfits and decide what you must wear to at least one winter party to steal all the spotlight!
Who said you couldn't wear a shirtdress in winter? 
While a shirt dress is considered to be worn exclusively in the summers because of the summery vibe it holds, you can now wear one even in winters! 
When going out to a party that may have a formal audience, you could always wear a shirt dress and style along with a leather jacket. 
Our personal preference would be styling a white shirt dress with a black leather jacket. Black and white scream modernity in a very classic way, and thus that would be perfect for an occasion like a formal party. Pair this outfit with a pair of chunky boots or heels, preferably black, that help brings this outfit together. 
   Go funky 
While black screams simplicity and beautiful basics, going funky once in a while isn't a bad idea either. So when partying with friends in a club or planning a beautiful bachelorette, funky women's leather jackets are the way to go! 
Please feel free to experiment with other colors if you're drawn to them. But remember, only a handful of guys and even women can pull off the look. All you really require to do is a load of confidence and love for yourself, your body, and your outfit choices. 
Don't ever shy away from going funky or wearing colors that are not as versatile or formal. You can easily rock greens, yellows, reds, and even pinks only and only if you trust your gut and your fashion sense. 
So, step outside your comfort zone and flaunt colored leather jackets; these can be paired with long flowy dresses or basic stuff like jeans and minimalistic shirts! Other than that, when dressing up for a party, never ever forget your jewelry! 
Be the Basic Bee
For girls that define sugar, spice, and everything nice, this outfit is the best match available. It's the easiest and the prettiest looking outfit and can be easily made with a leather jacket that is dark in color. 
To achieve nirvana's basic outfit, you need to have a basic black tee paired with not so ripped, ripped jeans. Not only is the outfit basic, but it is also amazingly timeless and effortlessly flattering. To bring it together, pair it with a colored leather jacket that goes with the entire outfit. Even though black and brown are the most popular colors, modern fashion and acceptance for feminine colors have introduced colored leather to the market. More leather hues are now available, including grey, red, tan, and dark green and even white. 
To bring the most out of this outfit, you can easily pair it up with a maroon leather jacket if you follow our given color scheme. 
Talking accessories, belted hiker snow boots that hold studs and buckles are the way to go in terms of shoes. As for the earrings, graceful dangling earrings paired with layered necklaces are what we want to achieve.       
Want to look cool? Own a biker jacket 
Talking about leather jackets, there is absolutely no way we could leave out biker jackets! This one clothing article on its own can make and break your outfit if carried the right way! Wearing a biker jacket the right way can help you achieve looking the most badass and the coolest. 
So the next time you're unsure of what you should wear to a party, biker leather jackets that are studded with beautiful zips, buttons, and studs are the way to go! 
Another feature to look for when getting a biker jacket is the number of front pockets, and whether or not it has those shoulder lapels everybody's crazy for! 
These can be worn when going out with friends, concerts, and parties, and you name it! 
Creating an outfit with a biker jacket is easy. All you really need is that black denim ripped jeans you thought went out of fashion and white or vintage t-shirts that bring your outfit together. 
Ensure that if you don't have black denim or a black biker jacket, whichever color you have should achieve the monotonous nirvana! 
Quilted leather jacket is the party jacket
You should wear a quilted leather jacket to a party since they come in various designs specifically created for parties and gatherings. It can make you appear like a total badass, hope you don't mind eyes and minds following your outfit the entire time! 
A Quilted Leather Jacket proves to provide you with a stunning outfit with a smooth and comfy feel. The quilted portion of the jacket distinguishes it from other types of jackets. People prefer to get quilted jackets because of their good appearances and their potential to boost any outfit. A band collar is the most common type of jacket collar. This style of collar is preferred above others because of its versatility. You may wear it to work, a party, or on vacation. A quilter jacket doesn't go out of style! 
Quilted Leather jackets are also the most unisex attire you will come across. It doesn't matter, if you are a man or woman, you are bound to fall in love with these jackets eventually.
Don't forget 
Needless to say, it's understood that leather jackets prove to be an amazing fit for party wear, especially in the winters. It's integral that you decide on all the outfits you want to create using your leather jacket this winter so that you can stay hassle-free before parties! 
We've hitched you with the prettiest, the coolest, and the most badass-looking outfits you can wear and choose to style in these winter parties. 
While your dressing plays an integral role in making you look cool, what really makes you look the coolest is the confidence you carry whatever you wear with you! 
Go out of your comfort zones and explore but don't lose your individuality in the process because that's what really makes you look you!
To learn more on all the newest, hottest style trends and ideas, have a click on the website every now and then. We've got all you want to look your very best, staying in and moving out in all categories and all seasons.