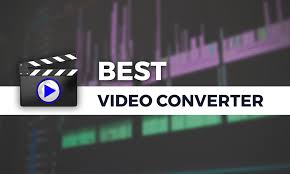 Many professionals, such as video makers and influencers, may encounter this issue when uploading a video to social media only to discover that the site does not support the format and size of their video
We also need a converter for our enjoyment and recreation, such as compressing, trimming, or decreasing the video resolution to save memory on our devices. Furthermore, numerous devices, such as the iPod and iPhone, support specific video formats. 
As a result, the software is required to complete the task for you. No need for any heavy software. You can do the work with a variety of online video converter.
Video converters are used to convert videos into any format you want, such as mp3, wav, m4a, ogg, amr, etc. They also extract audio from videos and save it to your device or computer.
The procedure is always simple. You can upload the file you want to convert, select the format you want to change, and finally click the Convert button! That's all! It's as simple as cutting a pie. A good online free video converter should have these attributes:
Because many professionals require converted video format quickly to progress their work, an online converter should be able to convert a video within minutes.

A converter should be able to convert any type of media, such as a YouTube, Instagram, or other social media site link, into the format you require.

A good

video converter

should be able to convert multiple videos at once into different output formats without compromising quality.
We have thoroughly gathered the best 4 online free video converters with these qualities without paying a penny to save time and provide fruitful results.
OnlineVideoConverter.com
Onlinevideoconverter.com is a fantastic website for converting video to MP4, AVI, MKV, AA3, and MP3 formats. You can convert videos from Dailymotion, YouTube, or Vimeo links to these formats. You can also record your video there or upload any other file to get your desired format. It is completely free, without any commercial skulduggery.
OnlineConvertfree 
Onlineconvertfree.com is the most effective free video converter website, being Usain Bolt on the list. This site allows you to convert videos in 30+ different formats and also provides you with 10+ different tools, allowing you to convert multiple files at the same time without taking up space on your device.
Kapwing 
You can upload your original video to Kapwing's online video converter and convert it to various formats such as MP3, GIF, MP4, JPEG, and so on. It includes several free tools from which to choose. You can also trim, combine, crop, and resize your videos while converting without losing quality.
WinX video converter 
WinX video converter has a user-friendly interface that allows any user, regardless of age, to operate the program without difficulty. This website can convert videos to multiple profiles and formats. It also aids in changing the pixels and size of the video.
Wrap Up
As we discussed the best online free video converters, we must keep in mind that while these websites provide many benefits for free, they can also cause some drawbacks, such as a lack of features, slow processing, and so on. With 1500+ conversation directions and 15+ languages available for users, onlineconvertfree.com provides user-friendly converting services with a wide range of tools and the fewest drawbacks. Visit onlineconvertfree.com right now to convert your videos promptly.