Wearing glasses can become tiring and can get in the way of your look. Primarily, the reason why glasses have become outdated in today's world is that they do not look stylish enough. Furthermore, the added inconvenience of taking them off and forgetting where you put them, makes it a bit hard to bear them. Contact lenses have been helping many to forget their problematic relationship with glasses. Contact lenses are delicate and if not taken care of properly can degrade quickly. Here are some things you should take care of when it comes to handling your eyewear:
The Type To Wear: Before you hurry on to learn about how to protect them, the first thing to keep in mind is the type of lenses to choose. If you intend to wear them on a regular basis, you should choose to purchase the ones for extended or continuous wear. For occasional purposes, go with daily disposable ones. 
Understand The Replacement Schedule:

You should ensure that you understand how often you can wear the contact lenses you have. This section is an extension of the first point. You should familiarize with the cleaning and disinfecting, covered as replacement schedule, of the type of lenses you wear. 

Handling Your Contact Lenses:

When you handle your lenses, ensure that you do so with the utmost cleanliness in mind and in practice. Contacts are easy to infect and dirty. Here are some tips that will help you handle your contacts better:

Always clean your hands properly before touching your contacts. 

Do not make use of soaps, cold cream, lotion, or oil-based cosmetics when you touch your contacts to avoid residual elements on them. 

Always make use of your fingertips. Ensure your fingernails do not touch the contacts, they could leave micro-scratches. 

Familiarize yourself with the process of using contacts and applying them to make it a memory. 

Your contacts should not get wet. When you shower, go out for a swim or will be around water, in general, you should avoid wearing them. 

When making use of a solution, you should never use expired solutions. because it is damaging in many ways. 

Using tap water to be your contacts is not a good practice. Tap water is impure and may infect your eyes. 

The instructions on the solution label for cleaning and the set of instructions for lenses should be followed carefully. The recommended instructions help you to understand the process better. 

After cleaning your lenses, you should keep your lenses in a closed case, only to be opened when you need to wear your contacts.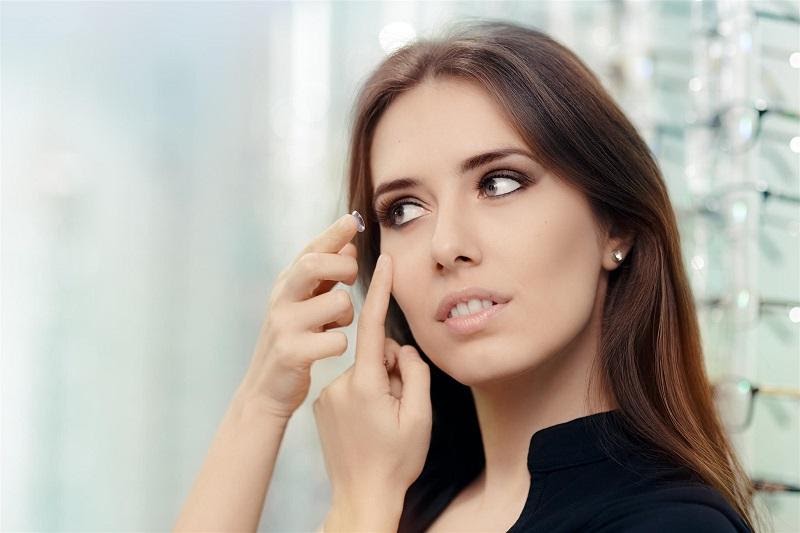 Caring for the case:

One of the most common mistakes in handling contact lenses

is that people rinse the case with solutions or soap. When cleaning the case, you should make use of hot water (tap) and then with the solution. Leave your case to dry in the air, and that is enough. Furthermore, the case should be changed every three months to avoid the risk of infection. 
Protecting your contact lenses and cleaning them is an integral part of using them. You should not fall prey to the no-rub solutions and follow your doctors or manufacturers instruction in this regard. The no-rub solutions are no good for your contacts, as they do not clean out the germs and bacteria properly.  Contacts are a huge responsibility as they are fragile. Always employ recommended instructions and make it a point to make an appointment with your eye specialist on time for check-ups.