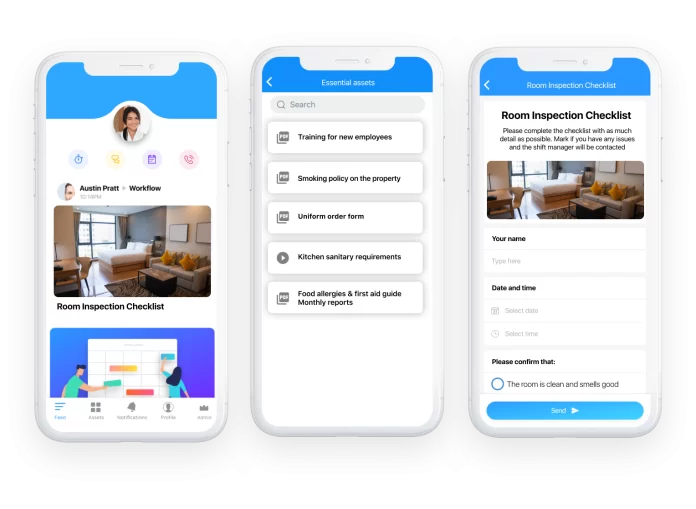 It's hard to imagine the growth of the hospitality industry without constant improvements in customers' experience. What is one of the best ways to uplevel the customer's loyalty? To use modern technologies, of course! Hotel management software that was able only to manage room assignments and invoicing is far in the past. Now is the era of digital solutions that can simplify and automate almost every process connected to hospitality workflow. Contactless check-in? Guest-recognition face systems? Real-time tracking? Now it's more than real!
Hospitality digital solutions are in great demand now. Just look at these statistics: the management software market value is expected to hit $1176.2 million during 2023-2027, at a CAGR of 6.59%. So if you're still hesitating about whether to dive into hospitality app development, here is a "yes"-sign!
Types of hospitality apps
Before you start your app development, we recommend finding out more about the following types of apps used in HoReCa and picking the one that will be the most winning for you. Keep in mind that you can create an all-in-one solution that will include all the apps below at once!
booking software

inventory control software

accounting software

lead management software

CRM

time tracking software
etc.
To get a better understanding of what a hospitality app is, let's take a closer look at real-life examples – the hospitality apps that are the most popular!
TOP – 5 hospitality apps in 2023
Stay
This app helps users manage all the aspects of their stay at a hotel. One of the most incredible features of this app is that it can automatically identify the hotel you are currently in and provide you with all the information and services that are available in this particular place. Within Stay, you can request everything you usually ask for at the reception desk, and find restaurants, gyms, and many other interesting places to plan your activities!
Duve
This app is very convenient for hotels with high traffic of foreign guests as it makes it easy for the hotel staff to understand the visitors in their native language. With Duve, you can also open your hotel room without needing to use keys or keycards and get access to all the data about hotel facilities.
Intelity
This app is loved by many users because it enables contactless check-in/check-out and includes mobile keys, online ID verification, in-app ordering, online payments, etc.
Crave
This is an ordering and payment solution not just for hotels but for restaurants, theaters, live events, and clubs as well. It has an amazing pre-stay feature. How it works: you book a hotel room and get not only approval of your registration but also all the information you need to know about the particular hotel before your arrival – navigation, the ability to reserve restaurants or spas, and so on. That's how the visitors can plan every detail of their stay.
Runtriz
Mobile booking, push notifications with hot hotel offers or info about local attractions, in-room controls for TV, lighting, and electronic devices, after-stay ratings, and many other features – it's all about Runtriz!
Hope you find these hospitality app examples inspiring! If you need more info about the cost of hospitality app development or expert advice regarding technologies, project planning, and workflow, please, feel free to contact our hospitality app development company Perfsol. Also, we recommend checking out a more detailed article about Hospitality/Restaurant/Cafe software to get deeper on how to build your app.