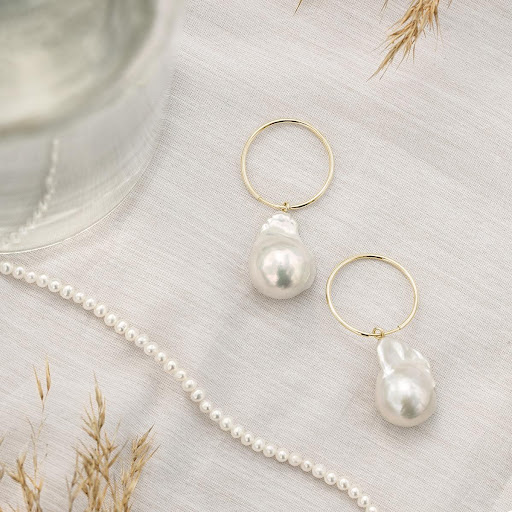 When it comes to timeless jewelry, pearls are practically unrivaled. Buying a classic pearl necklace or simple pearl studs is definitely a great investment. But how to wear your dream piece of pearl jewelry so that you surprise everyone and avoid a stereotypical look? You just need to learn a few tricks and you'll be sure to make the most of the magic of pearls.
The art of layering
As the famous saying goes, less is more. But is this also true when it comes to pearl jewelry? Not quite. Current trends launched by renowned fashion houses as well as smaller, more progressive brands command that we layer. If you have several favorite pieces of jewelry at home made of gold as well as other natural materials, don't be afraid to try adding pearls to them. This style is not for everyone of course. Followers of a more restrained style can stay true to the motto "three accessories and that's enough" and they certainly won't be any less stylish.
What's beautiful about today's fashion is its very diversity and emphasis on individuality. If you don't want to leave layering to chance, go for minimalist pearl jewelry like the pieces from the Luster collection by the Czech brand KLENOTA. They are designed to wonderfully showcase the beauty of pearls and 14k gold, in a way where they can be easily mixed and matched with each other.
Choose the right pearls for you
There can be considerable variety in pearls when it comes to size, color and shape, so every woman is sure to find the pearls of her dreams which match her skin tone, style and personality. An example is boho style baroque pearls which are very popular even among women who prefer a less formal, even boho style. On the other hand, regular round freshwater pearls are affordable and can be found in an infinite number of colors, from pure white, to pastel pink, apricot, and purple. Mysterious Tahitian pearls and the golden pearls of the South Pacific always look luxurious and will hold their own as a striking piece of single jewelry.
Create unexpected combinations
You can genuinely wear pearls with any outfit. It used to be customary for ladies to wear pearls just for formal events such as a ball or a visit to the theater. Nowadays, it's the opposite and you'll impress if you put together contrasting pieces from your closet and complement them with pearls for instance. But there's one effect you have to count on. Pearls always add a great deal of femininity to the resulting look and draw attention to themselves.
So how to go about it? Try adding a set of pearl bracelets to your usual uniform of a white T-shirt and jeans. Pair a pearl necklace with a casual plaid or denim shirt. Pair a simple sheath dress with larger baroque pearl earrings. You'll no doubt also think of many other ways yourself of how to fall in love with pearls.